Winter can be a cruel season. The freezing temperatures and icy winds can make it tempting to snuggle up with Ben & Jerry's, Netflix and soft comfy duvets… We can all relate to feeling guilty about comfort eating too. It's so easy to grab the not-so-healthy snacks and easy ready meals. Here are my fave 3 healthy student recipes to keep you warm this winter.
It can be hard to get out of bed on those cold winter mornings and all we want to do is snuggle away. The colder months can leave you lacking in energy, hungrier than usual and maybe a little sad too (Seasonal Affect Disorder (SAD) is common at this time of year).
If you're trying to stay healthy and not let your New Year's Resolutions get derailed by the cold snap, perseverance is key. Combat this challenging season with healthy, exciting and tasty food. Here are three cracking recipe ideas to get your tummy rumbling and keep you warm this winter: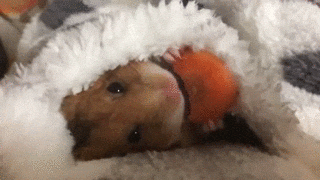 Scrambled Egg served with Bacon & Avocado Toast (BREAKFAST)  
Ingredients:  
two free-range eggs 
two slices of reduced salt bacon
one ripe avocado
two slices of wholemeal toast 
half a red onion 
three medium chestnut mushrooms 
10 g feta cheese
50 ml mayonnaise 
peppercorns 
parsley
sesame seeds 
Method:
Oil a non-stick frying pan to a medium heat with either coconut oil or whatever is left in your cupboard . 
Cut your onion and mushrooms into smaller pieces once hot add to the pan. 
Carefully  slice your avocado into a small bowl, add  your mayonnaise and parsley to mix using a fork, creating your guacamole. 
Once mushrooms and onions become cooked add the bacon cutting into small strips to cook quicker   
Beat your eggs into another small bowl then add to your frying pan mixing every few seconds with the other ingredients
Add your bagels to the toaster for three mins, flipping each bagel after 90 seconds to achieve ultimate crispness. 
Once cooked, turn off your gas letting the pan rest with your bagels cooked. 
Spread your guacamole across the bagels adding the feta cheese. 
Transfer your scrambled egg and bacon onto a large plate with your guacamole bagels around your plate, sprinkle with sesame seeds to finish 
ENJOY! x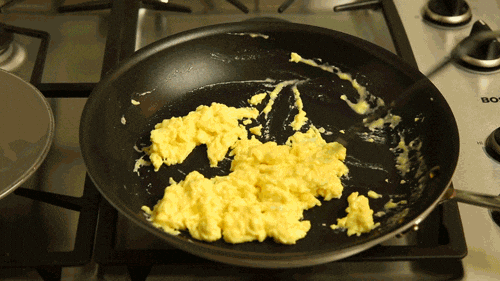 Jerk Chicken Wraps with Pineapple Salsa (LUNCH)
 Ingredients: 
2 teaspoons of coconut oil, melted 
2 tortilla wraps 
1 baby gem lettuce 
Jerk seasoning 
150g skinless chicken breasts, butterflied
FOR THE SALSA 
125g pineapple 
1 small red onion 
1 red chili 
50g of chopped tomatoes
25g of coriander
Lime juice 
Salt & Black Pepper 
* Buy premade salsa packs in most supermarkets as some foods are seasonal
Method: 
Preheat a pan to a high heat
Combine the coconut oil and jerk seasoning in a large bowl, add the chicken breasts then toss to coat 
Grill your chicken for 3-4 mins until cooked through then set aside to rest (5 mins)
Combine other ingredients for the salsa in a bowl and season
Toss your lettuce leaves on the tortilla wraps, slicing your chicken into strips 
Spoon your pineapple salsa
TUCK IN x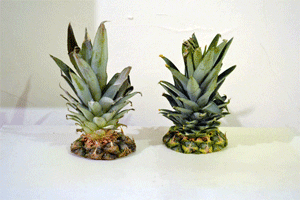 Vegan Quorn with Vegetable Stir Fry & Greek Yogurt (DINNER)
Ingredients: 
200g of quorn pieces
100g of mixed vegetable stir fry
75g sweet potatoes
Satay sauce (one packet)
1 Red Onion
3 Medium Mushrooms
1 garlic clove
teaspoon of tahini sauce
100g of Greek low-fat Yoghurt
bunch of sesame seeds
Parsely
Chili flakes
Method: 
Boil a medium pan of water, half full with a pinch of salt 
Pre-oil a medium-sized wok (where the magic happens)
Finely cut your onion, garlic and mushrooms with peeling your sweet potatoes cutting into small chunks 
Once boiled add sweet potato chunks to water, boil for 8-10 mins 
Once wok becomes hot, add vegetables to your pan mixing vigorously to ensure all ingredients are fully cooked. 
Add Greek yogurt, sesame seeds, tahini, chili flakes and parsley creating your sauce
Add the satay sauce and quorn pieces into your wok. 
Once cooked, turn off your sweet potato pan, rinse water then add potatoes to the wok. 
Once onions are fully cooked, turn off your wok ensuring all ingredients are fully cooked
Serve into a large bowl with your tahini yogurt mixed into the pan before plating
DINE IN x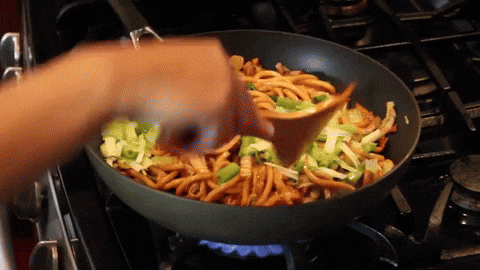 Good luck trying these recipes, please let me know how you get on by leaving a comment below!
Wrap up warm and happy cooking!
Howard x
Loved this blog post? Check out our blog category: "Food and Recipes".